English Version | KW 43-44 | KW 37-46
The Big Bang Theory 3×06 The Cornhusker Vortex
Sie war zwar lustig, aber nicht so lustig wie sie hätte sein können. Die ganze Szene, wo Leonard mit Pennys Freunden Football geguckt hat, war überhaupt nicht lustig, wenn man mich fragt.
Aber ich will diesen frakking chrome toaster!!!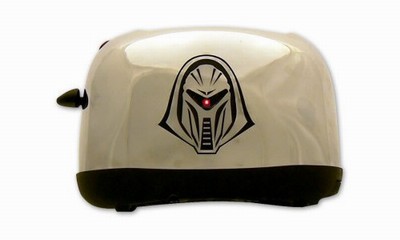 Two and a Half Men 7×06 Give Me Your Thumb
Bei der Folge hab ich ja vor Lachen nur in der Ecke gelegen. Charlie betet. Charlie prüft die Größe der Brustimplantate. Charlie weint. SO großartig.
V 1×01 Pilot
Also der Pilotfilm war nicht schlecht. Und ich wette, für jemanden, der das Original nicht kennt, war es bestimmt ein cooler Anfang. Aber das war kein Restart wie der von Battlestar Galactica. Das hier fühlte sich etwas zu unterschiedslos an, selbst wenn sie eine etwas andere Hintergrundgeschichte benutzt haben. Aber all die anderen Elemente waren da. Der menschliche Pressesprecher, der geheime Widerstand, der Widerstand innerhalb der Aliens, die "Hitlerjugend"-ähnliche Jugendorganisation, … Versteht mich nicht falsch, ich werde es gucken, aber das Einzige, was mich bisher überrascht hat, war die Identität des Alien-Widerständlers.