Deutsche Version | CW 43-44 | CW 37-46
The Big Bang Theory 3×06 The Cornhusker Vortex
While funny, not as funny as it could have been. The entire scene where Leonard watches Football with Penny's friends wasn't funny at all if you ask me.
But I want that frakking chrome toaster!!!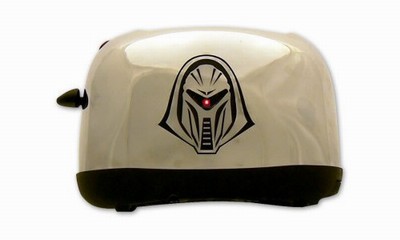 Two and a Half Men 7×06 Give Me Your Thumb
This was an episode where I laughed my ass off. Charlie praying. Charlie testing the size of the breast implants. Charlie crying. SO great.
V 1×01 Pilot
It wasn't bad. And I bet for someone who doesn't know the original it's a cool start. But this wasn't a restart like the one from Battlestar Galactica. Somehow this felt a bit too indistinctive, even when they used a slightly different back story. But all the other elements were there. The Human spokesperson, the secret resistance, the resistance within the aliens, the "Hitler Youth"-alike youth organization, … Don't get me wrong I will watch it, but so far the only thing that surprised me was the identity of resistance alien.