Stargate: The Ark of Truth
English Version | Season 10 | Stargate: Continuum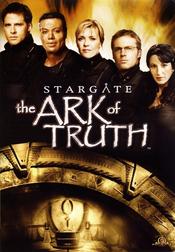 Inhalt: Die Ori selbst sind mit hoher Sicherheit tot, doch ihre Anhänger kämpfen weiter. Daniel ist sich jedoch "sicher", dass sie die "Ark of Truth" in der Ori-Galaxie finden. Die Ark wurde von den Antikern gebaut und ist in der Lage, jedem Menschen die Wahrheit über die Ori zu offenbaren. Also macht sich die Odyssey unter dem Kommando von Mitchell in die Ori-Galaxie auf.
Meine Meinung: Auf der einen Seite war der Film sehr spannend, auf der anderen Seite haben mich diverse Dinge gestört. In der Meinung zur zehnten Staffel habe ich anklingen lassen, dass sie alte Geschichten wieder aufgewärmt haben. Jetzt haben sie es hier wieder getan und dabei auch noch einen fetten Plotthole eingebaut. Die Wahrscheinlichkeit, dass der Selbstzerstörungcode nur in Verbindung mit dem Asgard-Computerkern funktioniert dürfte relativ hoch sein, schließlich wurde das Programm dort geschrieben. Wäre die Odyssey also zerstört worden, gäbe es mal wieder nichts, was die Replikatoren aufhalten könnte. Aber auch dieser Replikatorzombie war etwas albern.
Und Teal'c ist zum ungezähltesten Mal seit dem Verlust seines Symbionten angeschossen worden und wo andere Statisten längst reglos im Gras lägen, unternimmt er aber eine Reise über das Gebirge mit einer Energieschusswunde direkt auf der Wirbelsäule.
Und die Ori-Schiffe warten im Erdsonnensystem gnädigerweise so lange mit dem Angriff, bis Daniel sie vom Gegenteil überzeugen kann.
So, das wars. 66 Tage (28. Februar – 03. Mai) Stargate SG-1 sind geschafft. Ich hoffe, ihr hattet ein wenig Spaß beim Lesen, so wie ich es genossen habe, die Serie mal wieder zu schauen.
The End.
P.S.: Stargate: Continuum