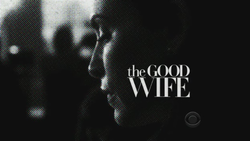 The Good Wife @ Wikipedia
The Good Wife @ IMDb
Anwaltsserien sind schon immer von schwankendem Interesse für mich gewesen. Damals (vorm Kriesch! 😉 ) habe ich Matlock und L.A. Law und später Ally McBeal geguckt. Aber dann bin ich vom Zug abgesprochen und auch wenn Boston Legal ziemlich witzig aussah, so es die Serie nicht geschafft, mich zum Einschalten zu bewegen.
Heute habe ich dann von dieser Serie mit Julianna Margulies (Carol Hathaway in ER) gehört und gedacht "Warum nicht?". Also habe ich mir die Pilotfolge "organisiert". Und ich fand sie richtig gut.
Alicia Florrick ist die Ehefrau eines gefallenen Staatsanwalts, der jetzt im Gefängnis sitzt und sie kehrt in ihren alten Job als Anwältin in einer Kanzlei zurück. Die Charaktere scheinen sehr interessant zu sein und der Fall war auch gut. Und ich fand es cool wie Alicias Tochter die Musik von Twilight Zone als Klingelton auf Alicias Handy für Anrufe ihrer Schwiegermutter eingestellt hat.