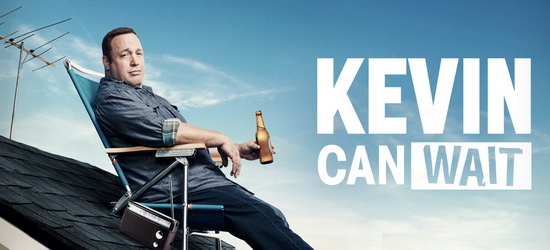 Kevin Can Wait Website
Kevin Can Wait @ Wikipedia
Kevin Can Wait @ IMDb
Kevin Gable ist ein frisch in den Ruhestand gegangener NYPD-Cop, der eine typisch amerikanische Familie und Cop-Freunde hat, die ebenfalls gerade in Ruhestand gegangen sind. Er plant, seine Tage mit dem Bau einer Go-Kart- / Paintball-Strecke und anderen Spaßaktivitäten zu verbringen. Für weitere Informationen, siehe hier:
Leider läuft es anders als geplant. Seine Teenagertochter(Taylor Spreitler, Melissa & Joey) verkündet, verlobt zu sein und will das College sausen lassen, um ihren Computerprogrammierernerdverlobten Chale (Ryan Cartwright, Bones' Vincent Nigel-Murray) zu unterstützen. Ihre Eltern sind nicht amüsiert.
Um seinen Lebensabend quer zu finanzieren, hatte Kevin geplant, das Apartment über der Garage zu vermieten, aber der Plan fällt flach, als er ihn seiner Tochter anbietet. Und seine Kumpels haben auch mit Widerständen zu kämpfen, die seinen PowerPoint-Pensionsplan ad absurdum führen.
Ich fand Kevin James in The King of Queens klasse. Und manchmal brauchen TV-Serien auch eine Weile, ehe sie ihren Weg gefunden haben. Aber diese Pilotfolge war einfach nur schlicht. Durchschnittlich. Gewöhnlich.
Chale war ein Haufen von Klischees eines Nerds und nicht sehr unterhaltsam. Kevin war der nette liebenswerte Typ, den er meistens spielt, aber ohne einen Widersache wie Arthur Spooner hatte er niemanden, gegen den er anspielen konnte.
Und die Lachspur hat mir wiedermal versucht zu erzählen, dass etwas ultrawitzig war, selbst wenn es nur milde amüsant war – falls überhaupt.
Bisher funktioniert die Serie für mich nicht und mit so viel Zeug zu gucken, muss es sich noch mal RICHTIG anstrengen, um nach Halloween noch auf meinem Kalender zu sein.