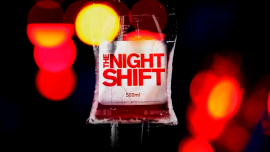 The Night Shift @ Wikipedia
The Night Shift @ IMDb
Inhalt: Das medizinische Personal der Nachtschicht im San Antonio Medical Center ist etwas üblich. Naja, OK, sie haben auch normale Probleme. Aber zusätzlich dazu haben viele in Kriegsgebieten gearbeitet, in Afghanistan und Irak. Und einige von ihnen sind mit Traumata nach Hause gekommen.
Das ist eine Serie über diese Menschen und wie sie versuchen, wie der in ein normales Leben zurückzukehren (so normal eine Notaufnahme mitten in der Nacht eben sein kann).
Meine Meinung: Es ist ein typisches Medical-Drama, das nicht wirklich aus der Menge herausragt trotz des zusätzlichen Bonus zur Standardgeschichte. Es ist trotz allem nur eine Geschichte über "werden die zwei zusammen kommen" und "werden sie ein weiteres medizinisches Wunder schaffen". Aber im Prinzip ist es ganz guckbar, wenn man Medical Dramas mag und es wurde auch schon für eine zweite Staffel verlängert.