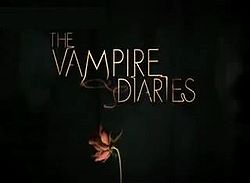 The Vampire Diaries @ Wikipedia
The Vampire Diaries @ IMDb
Stefan Salvatore ist ein mindestens 160 Jahre alter Vampir, der in seine alte Heimatstadt Mystic Falls zurückkehrt, um dort als Highschool-Schüler "unterzutauchen". Er lebt bei seinem Neffen, der sich als sein Onkel ausgibt, aber leider taucht auch sein Bruder Damon dort auf, der Menschen nur als Spielzeug und Nahrung betrachtet und Stefan das Leben zur Hölle machen will. Stefan versucht natürlich, seine wahre Identität geheim zu halten (auch vor seiner neuen Freundin), was aber mit diesem Bruder nicht das einfachste ist.
Ich dachte mir, ich geb ihm mal eine Chance, aber ich bin eher unbeeindruckt. Ich Vampir, der versucht, sich unter die Menge zu mischen aber von seinen bösen Vampir-Buddies nicht gelassen wird. Alles schon erlebt (mit mir als bösem Vampir versteht sich 😉 ). Und diese Tagebucheinträge am Ende machen es nicht besser. Ich werde ein paar Folgen mehr gucken, aber ich denke nicht, dass das eine Serie für mich ist.
Update: "The Vampire Diaries" revidiert