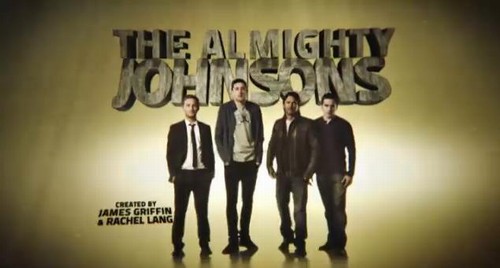 The Almighty Johnsons @ Wikipedia
The Almighty Johnsons @ IMDb
Vor vielen Jahren begannen die Menschen im Norden, sich gegen ihre Götter zu erheben. Also taten diese as Mutige: Sie rannten davon. Nach Neuseeland.
An seinem 21. Geburtstag erfährt Axl, dass seine Mutter, sein Vater, seine drei Brüder und sein "Cousin" Olaf alle Götter sind. Und heute wird er das auch. Sie haben viel von ihrer alten Macht eingebüßt und können kaum mehr als Partytricks vollbringen. Aber es gibt einen Weg, sie wieder zu voller Stärke zurückzubringen. Und Axl – oder sollte ich sagen Odin – ist der Schlüssel dazu.
Die ersten beiden Folgen dieser neuseeländischen waren richtig witzig und es macht Spaß ihnen zuzugucken.
Die Charaktere wissen zwar, dass sie Götter sind, aber sie haben keine Erinnerungen als die, die sie in ihrem jetzigen Leben erworben haben. Und jeder geht mit seinen Kräften anders um.
Manchmal ist der neuseeländische Akzent etwas schwer zu verstehen, aber wenn man schon mal britische (nicht amerikanische!) Serien geguckt hat, dann kommt man rein.