Deutsche Version | Part 7 | Part 9
True Blood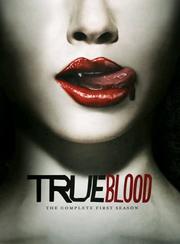 What's the show about?
Based upon the "Sookie Stackhouse" book series by Charlaine Harris. Sookie is a waitress in Bon Temps, Louisiana and she can read minds. She's fallen in love with a Vampire who has been around since the Civil War. The Vampires have come out of the coffin since the Japanese have invented artificial blood and Vampires need no longer feed off of Humans. The new stuff is called Tru:Blood.
"Strange Love"
Sookie Stackhouse is totally excited when her first Vampire walks into the bar where she works. And the best part of it: She can't read his mind. The thoughts of all the people around her are constantly raining upon her but he is totally quiet. But she's not the only one who has identified him as Vampire. So have the Rattrays and they pin him down and try to drain him dry for his "V" – Vampire blood, an aphrodisiac for Humans.
My Opinion
A bit lengthy at times but otherwise very interesting and sometimes disturbing. The show is very open about a lot of topics and also very (very, very!) visual. And except for having Vampires living openly amongst Humans the show also shows other mystical abilities like Sookie's mind-reading and someone else's shape-shifting. The interesting part about this show is the fact that Vampires aren't a secret and how both sides try to deal with that fact (Vampire rights, racism, …).
Bones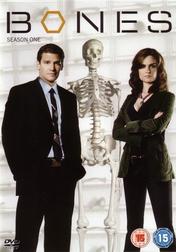 What's the show about?
Dr. Temperance "Bones" Brennan is a forensic anthropologist and works in the Jeffersonian Institute in Washington, D.C.. On occasion she works together with FBI special agent Seeley Booth on cases where only a skeleton or parts of it were recovered from the crime scene. Bones's team consists of a number of specialists who all help to solve the current case.
"Pilot"
Dr. Brennan has just come back from Guatemala where she excavated mass graves from a genocide. Now she's back and she's asked again by the FBI to help in a case. She's worked with them before but was restricted to lab work. Now she wants to get in on the whole investigation. And while Special Agent Booth is not too thrilled about this, he agrees. They have found the remains of a young woman that has been missing for two years and back then it was Booth's task to find her.
My Opinion
Just like with House M.D. I am not overly interested in the actual cases because despite the show being created by an actual forensic anthropologist, in my opinion there's a lot of "Voodoo" involved when it comes to solving the crime. For example, Hodgins can take a sediment sample and his "dirt database" can tell him exactly where the sand is coming from – down to the square mile. Or the case where the bones were dissolved by a chemical reaction but the computer recreated an image of the bones and you could see where and how the knife was going through the ribs.

But I really like Bones and Booth and their development and I also like Booth's gut approach to the crime solving. And Hodgins and Zack are real fun when they try to experiment and fight for the "King of the Lab" trophy.
How I Met Your Mother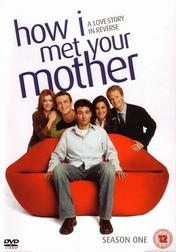 What's the show about?
The title literally spells it out. In the year 2030 Ted Mosby tells his kids the story of how he met their mother. Ted's living with his best friend Marshall and his fiancé/wife Lily. They are also friends with Robin, a woman with whom Ted is madly in love with for a long time, and Barney "Legen – 'Wait for it!' [season break] – Dary!" Stinson.
"Pilot"
Ted's life is about to change. His best friend has just proposed to his girlfriend and she has accepted. And Ted meets a beautiful woman at his favourite bar. She likes dogs, Scotch, can quote Ghostbusters and does not like olives. She's perfect – until he tells her on the first date: "I love you!".
My Opinion
To be perfectly honest, the show had to grow on me. I watched a few episodes on TV and wasn't that thrilled. I still bought the first season on a hunch and watched the first disc. While funny, still no ground-breaking experience for me. Then 4 days ago I gave it another shot. I began with the second disc of the first season and roughly one hour ago I finished with the first episode of the fifth season. And while I enjoyed it very much, I'd still rate Two and a Half Men and The Big Bang Theory higher. HIMYM is one really long romantic comedy movie where you don't meet the female lead (so far) and I really like this kind of movie – if done well. And HIMYM is done well.
Joey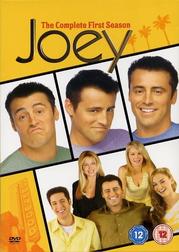 What's the show about?
Joey Tribbiani is an actor living in L.A. who can't get a decent acting job. He's living with his nephew who is a college student and slightly smarter than Joey – and his sister drops in all the time.
What happened before?
Joey has been living on New York for the last ten years and he had a couple of friends there but life moves on and so did he.
"Pilot"
Joey has just arrived in L.A. but after a few days of shooting his new show it gets cancelled. Now Joey has no job and he's sitting in an empty apartment. And his nephew asks him whether he can move in, too, since he doesn't want to live in his mother's home anymore. Joey's sister Gina is not amused.
My Opinion
I watched a couple of episodes but never the whole season. It simply wasn't the same. Seeing Matt LeBlanc as Joey again was just a sad reminder that Friends is actually over and that there won't be new episodes with the six of them. So I don't think I am going to see this two-season series entirely.
Charmed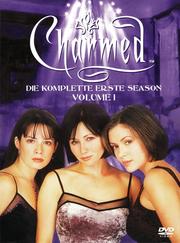 What's the show about?
Three sisters doing spells and stuff. Fighting evil. Looking gorgeous. That's all I know.
"Something Wicca This Way Comes"
After her mother has died the Halliwell sisters Prue, Piper and Phoebe move back into their family house and discover that they are witches and that they are destined to fight evil. Prue can move things with her mind, Piper can see the future and Phoebe can stop time and they have to defend themselves against an evil warlock who wants their powers.
My Opinion
Sorry, I tried, I really did. This is the third time I watched the pilot and I believe I once watched the second episode. This was a blind buy because I thought "What can go wrong: three beautiful ladies, witchcraft, battling evil – cool.". But it wasn't. The way they simply accepted their fate and never really questioned what has happened to them? Not freaking out? Sure, they toyed with a spirit board in their youth but they never even knew that there actually were paranormal events in the world. And yet "Cool, we're witches, let's fight evil!" – no sorry, can't accept that premise.
Due South
What's the show about?
Constable Benton Fraser from the Royal Canadian Mounted Police (RCMP) works as liaison officer in the Canadian consulate in Chicago. He also helps Chicago PD Detective Ray Veccio to solve crimes where he either was made aware of or where his unique skills are essential.
"Pilot"
"If you kill a Mountie, they'll hunt you to the end of the world." After his father was killed, Constable Fraser investigates this "hunting accident" and tracks down a group of hunters who wore new boots, drove a Jeep Wrangler and had big calibre rifles: Americans. He follows their trail down to Chicago and requests to be transferred there. The local police isn't really interested in the case but Detective Veccio helps to uncover that it was a hired hit and the trail leads back to the RCMP.
My Opinion
A cool buddy cop show from the mid-90s which was defined by the different lifestyles and ways of crime-solving of Fraser and Veccio. They were a great team and it was real fun to watch them, especially when Fraser put things in his mouth and Ray was disgusted every time. 😀 And I loved the deaf wolf Diefenbaker who could read lips. 🙂
I can't remember though if I ever saw an episode with Veccio's successor, the new "Ray". But I definitively will do that in the foreseeable future.
Dragon Ball Z
(Doragon bôru Zetto)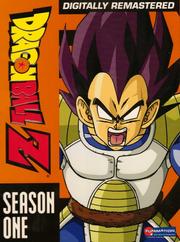 What's the show about?
Son Goku is the strongest fighter on Earth and pretty much anywhere. Still there are new enemies on a regular basis that threaten to destroy entire planets and Son Goku and his friends fight to prevent this. At first it's the Saiyans, then the Cyborgs, then Cell and in the end the demon Buu. Son Goku has also the help of the Dragon Balls – when all seven are put together, the eternal dragon Shenron will appear and grant wishes that can even resurrect the dead.
What happened before?
Son Goku has been fighting all his life, even in his childhood. He's competed three times in the Great Tournament and has won the last one. He's also defeated the Red Ribbon Army and the evil Piccolo Daimao.
"The New Threat"
A space capsule has landed on Earth and from it emerges the warrior Raditz and he's looking for his long-lost brother, Kakarrot. Humans have no chance when they stand in his way and even Piccolo fears him when they meet each other. Who is he and who is this "Kakarrot"?
My Opinion
I love the mangas this series is based upon. I've got all 42 volumes on my shelf and I read them from time to time. Back when I was in college we started to watch the original Dragon Ball series on a regular basis whenever possible. It was a group event. When I bought the books it happened that we sat in the back row of a boring lecture and we would read them in a row – five people with ascending volume numbers and when finished the books would shift.

It also happened to be the first manga series in Germany where the original reading order was kept and when you read it on the train people would give you strange looks because you read a book from back to front…
But I always liked the earlier stories better. The volumes 1-16 are represented by the Dragon Ball series and the volumes 17-42 by Dragon Ball Z and the latter one became too repetitive. For example: A normal Human had a power level of 5. Piccolo had 322. When Son Goku fought against Frieza the latter one had a power level of 4 million! After that the power levels were dropped again because it became ridiculous. After all, Son Goku still had to beat the Cyborgs, Cell and Buu.
The earlier stories were more humorous and had more fantasy elements in it. And I definitively prefer the manga over the anime because in the series they dragged out the fights to eternity.

The Fall Guy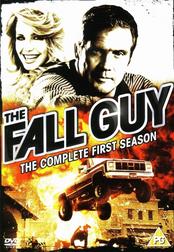 What's the show about?
Colt Seavers is a Hollywood stunt man and he does all kinds of (dangerous) stunts. But since the movie business doesn't constantly pay, he has another way of getting an income: He's also a bounty hunter who hunts down bail jumpers which is sometimes even more dangerous than his stunt jobs. On both jobs he has help: His cousin Howie Munson and his assistant Jody Banks.
"The Fall Guy"
After he's done a stunt involving crashing an Indy race car into a wall and walking like a human torch, Colt's cousin Howie approaches him. Howie is supposed to be in college but has decided to become a famous stunt man just like Colt. Howie has no clue about real life and certainly even less clues about the stunt business. But Colt takes him under his wings. And their first job as a team is to bring a man back from a town he practically owns.
My Opinion
The Fall Guy was a great show and the best things were – naturally – all the stunts they did. There was only one topic of discussion on the school yard the day after an episode of "Colt" was aired – and I'm talking about East Germany where we weren't allowed to watch western television, let alone talk about it. But we did it and we imagined it was us doing all these stunts – and Jody was so hot!
Like with most of the 80s shows there's a lot of nostalgia involved and while it's still fun to watch I'd never watch more of a couple of episodes again. But I still cherish the memories and I always wanted to have a "Colt Siwas" (I had no clue how to spell that back then) truck. That thing still looks cool.
Lois & Clark: The New Adventures of Superman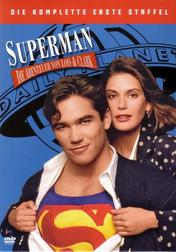 What's the show about?
Clark Kent is one of the best reporters at the world-famous "Daily Planet" newspaper. But when the need arises he embraces his Kryptonian heritage and becomes the Man of Steel: Superman. And she is always at his side: Lois Lane, star reporter, working with the one man and falling in love with the other.
What happened before?
From the POV of the show, nothing has happened before. Lois, Clark, Jimmy and Lex all meet for the first time here. Superman appears for the first time here.
"Pilot"
Clark Kent has just come to Metropolis, but he doesn't get the job at the "Daily Planet" that he had hoped for. And Lois Lane is futily trying to get a one-on-one interview with the famous billionaire Lex Luthor. But Clark can be very convincing and when he gets the job he incidentally opens the door for Lois to get close to Lex.
My Opinion
While the effects may be outdated, the chemistry between Clark/Superman and Lois is still great. Both actors embodied their famous characters with a lot of charm and transported one of the oldest super heroes forward into the nineties. When it comes to Lois I am undecided whether I like Teri Hatcher or Erica Durance (Smallville) better but Dean Cain clearly wins over Smallville's Tom Welling. It's not Tom's fault actually because even after 8 years the writers are still make him angsty of everything. Dean's Clark is a self-assured man and I hope Tom's Clark will become one, too.
Primeval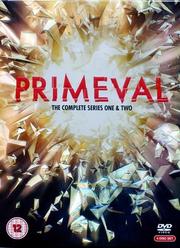 What's the show about?
All over the world anomalies are suddenly opening and reveal itself as a door to the past. Sometimes predators come through and have to be brought back and the government tries to keep this a secret. A team of scientists and members of the British Home Office work on these cases and try to find a pattern and a way to close these anomalies again.
"Series 1 Episode 1"
Eight years ago the wife of Professor Cutter disappeared without a trace in the Forest of Dean. Now something weird is going on in there again, it's either a huge animal or a giant prank. The professor has to check it out for himself. In the mean time not far from there: A family calls the local zoo because their son has found a strange lizard that must have been set free by someone.
My Opinion
This was another blind buy and I watched the first season today for the first time. At first I was intrigued by the general idea. Basically Jurassic Park without fences or island. But I was constantly thrown off by how these animals behaved. I am certainly no expert on animals but I've seen animal documentaries since the days of Jacques Cousteau and I also watched the amazing BBC documentaries on prehistoric life (great stuff!). And now this series has all these amazing predators that could cause a lot of havoc just by behaving naturally. But that wasn't enough – they had to behave in an un-animal way just to create tension and suspense with the characters.
The characters were OK, but also not exceptional (more stereotypes than individuals). I don't know if I will watch the second season I already own…