Deutsche Version | Part 5 | Part 7
Since I've purchased quite a number of new TV shows, I thought to resurrect this marathon.
V
(1983)
What's the show about?
A group of underground rebels fights against an alien race who have invaded Earth without making it appear as such. The resistance cell is a motley crew with all kinds of backgrounds and their goal is it to expel the aliens again. And their sign is the "V" – for "Victory!".
"V"
One day a number of huge space ships appear all over the world. But they don't come as enemies, but as friends. In exchange for a certain chemical the aliens give us cures for all kinds of diseases and improve our technology. But the aliens and their intentions are not what they appear to be.
My Opinion
The show comprises of the two mini-series V (1983), V: The Final Battle (1984) and the one-season-show V (1984). It has aged quite well, the storytelling stands out for a show of its time and the special effects don't look that bad, either. It's still very watchable and that the subject is still interesting is proven by the fact that a remake of the show will come to television land this fall.
Gossip Girl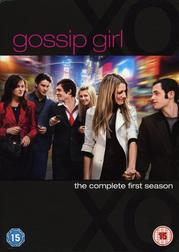 What's the show about?
Gossip Girl belongs to a group of students who live in Manhattan's upper east side and they are rich – really rich. The "outsiders" of this group are Dan and Jenny Humphrey who live in Brooklyn but go to the same private school as the others. It's a show about love, life and intrigues and the one person who blogs about all this: Gossip Girl. Nobody knows who she is, but she and her network of "informants" know everything.
"Pilot"
The new school year has begun and Dan is now a junior. And one event will change his life and that of the others forever: Serena van der Woodsen is back from her year on boarding school and she will go to their school again. S is D's big love but she doesn't even know he exists and S and Queen B have some unfinished business.
My Opinion
The show is very intriguing with all these characters that have their own agendas, with their love and revenge plottings and in the middle of it Dan who so doesn't really fit into this world yet is bound to become the ultimate insider. And I love Kristen Bell (Veronica Mars) as the voice of Gossip Girl. I never watched shows like Beverly Hills, 90210 or The O.C. but this show I really like, I even bought (and read) the book by Cecily von Ziegesar on which the show is based on: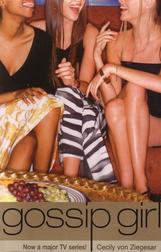 House M.D.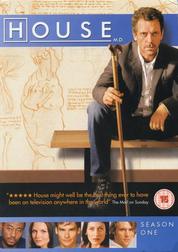 What's the show about?
Dr. House leads a team of diagnosticians who have specialized in rare and/or extraordinary cases. House himself is a misanthropic cripple who doesn't like to handle the patients personally, basically because "everybody lies". He bounces ideas off his team and together they find the disease but not always fast enough to actually save the patient.
"Pilot"
A young kindergarten teacher is brought to the hospital because she has lost the ability to speak and five different doctors have made five different diagnoses based on the same evidence. House's friend Dr. Wilson tricks House into accepting this patient and he and his team try to diagnose her illness. And the hospital boss Dr. Cuddy forces House to do clinic hours, too.
My Opinion
It's not lupus. Whatever it is, it's never lupus. The case of the week follows a fairly regular pattern. Patient comes in, something makes it interesting for House, they treat, they mistreat, they treat again, they nearly kill the patient and then something totally unrelated to the case gives House the solution. Case closed, patient (maybe still) alive. For me that's not the reason to watch this show. For me it's about House himself and his friend Wilson and Cuddy and his three doctors and how they interact and what they do besides treating the patient. And even though the case always follows the same pattern, the position of the players (even House's) is constantly changing and will change again when the show goes into its sixth season this fall.
Supernatural
What's the show about?
Dean and Sam Winchester are brothers. 22 years ago a yellow-eyed demon killed their mother. Since then their father has been on the hunt for all kinds of supernatural beings and phenomenon. Sam once tried to get out of the "family business" but after his father went missing and his girlfriend was murdered in the very same way his mother was he has rejoined with his brother. They fight against vampires, ghosts and everything else you dare not think about in the middle of the night.
"Pilot"
22 years ago. John Winchester has to evacuate his son Dean and infant son Sam out of the house after something pinned his wife onto the ceiling and set her on flames. Present day. Sam has stopped hunting two years ago and studies at Stanford now. But suddenly his brother Dean stands in the door and announces that their dad has gone missing while being on a hunt. Sam agrees to accompany Dean on this one thing to find their father – only 'til Monday.
My Opinion
I was never really into horror stories, but shows like Buffy and Angel brought me closer to the topic and since I liked Jensen Ackles in Smallville's fourth season I thought to give it a try. And it's a great show. Except for the fact that there's a monster of the week every episode is totally different due to the very nature of the supernatural being. There's also an overall story arc that includes the yellow-eyed demon, fallen angels and the apocalypse.
Early Edition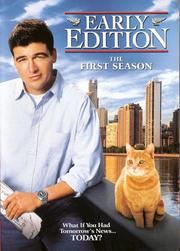 What's the show about?
Every morning Gary Hobson gets his paper delivered by a cat. And if this weren't weird enough, it's not the paper from today – it's the paper from tomorrow. And every day Gary and his friends try to prevent any disaster he reads about and that are about to happen.
"Pilot"
Gary is a not so successful stock broker who lives in a hotel room. His wife has thrown him out and has filed for divorce. Then a cat "delivers" a paper, he reads it and throws it away. It takes a while for him to figure out that something was wrong – or very right – with that paper. Luckily for him, he gets a new one the next day. Now he can hit the race tracks. But he has overlooked more urgent news than the sports results…
My Opinion
I really liked that show. Kyle Chandler (now on Friday Night Lights) is a very likeable guy and they always found new twists to make his day an adventure. And I also liked his friends, especially Fisher Stevens (The Plague in Hackers) who always tried to make a little profit on the sideline but came through when he was needed.
Veronica Mars
What's the show about?
Veronica Mars is a high school and later college student who works part time for her father. He is a private eye who used to be the Sheriff of Neptune, a town that has no middle class. You either are a millionaire or you work for one. Aside from working for her father she also works for other students and solves their problems. And both father and daughter work on the biggest case in their life.
"Pilot"
Veronica used to belong to the "cool guys" but then her father (the local sheriff at the time) accused the richest man in town of murdering his own daughter. Now he and his daughter are outsiders and the Lilly Kane murder appears to be solved. But it is not, not in the eyes of both father and daughter. But she also has to rescue another student because he interfered with the business of the local biker gang led by Eli "Weevil" Navarro.
My Opinion
It was a great show that was unfortunately short-lived (three seasons). For the first two seasons they had this one big mystery per season (in the first season the Lilly Kane murder), when Veronica went to college they had two cases and some single episodes, maybe that was the reason it went under. And every episode had its very own case to be solved. The show had a great cast and a good supply of supporting characters and I enjoyed it a lot.
Alias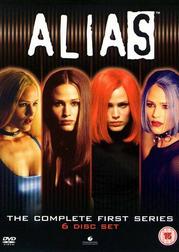 What's the show about?
Sydney Bristow is a double agent. She works for supposedly covert branch of the CIA called SD-6 and for the real CIA. SD-6 is part of a larger group called The Alliance but only the high-level leaders know that SD-6 is not CIA. Field agents like Sydney are not supposed to know. Thus Sydney goes on whatever mission SD-6 sends her and the CIA gives her a counter mission to sabotage SD-6 without them knowing.
"Truth Be Told"
Sydney Bristow is a grad student who works part time at a bank. But the bank job is only a cover. She's an agent in a covert branch of the CIA and she hasn't told anyone about this. But when her boyfriend proposes to her she makes that fatal mistake. After she's come back from her next mission she finds him dead. SD-6 has killed him because he became a security risk. And when she doesn't come back to SD-6, they try to kill her, too. But luckily for her she has a father who also works for SD-6 and who saves her. After she's re-established her credibility with SD-6 she goes to the CIA and offers to work as a double agent.
My Opinion
I've only seen one season so far, but really liked it. There is a mystery element on the show in the form of artefacts the Italian inventor Rambaldi has built – in the 15th century (it's a J.J. Abrams show after all). Rambaldi has also made a prophecy and it is not clear yet whether it refers to Sydney Bristow or not (I assume that it will become clear in later seasons). Just like with Chuck I like it how they try to keep their public and their secret life apart and how it becomes more and more difficult to do that. But Sydney has also a cool number of disguises. 🙂
Scrubs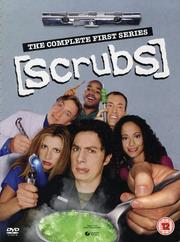 What's the show about?
The staff of the Sacred Hearts Hospital is not like other hospital staffs. The show is told from Dr. John "J.D." Dorian's point of view but includes the lives of then medical school buddy now surgeon Dr. Turk, Dr. Elliot and other doctors, nurses and even the janitor of the hospital.
"My First Day"
First day at the Sacred Hearts teaching hospital. J.D. is nervous but the he meets his new co-worker, Dr. Elliot and everything seems to turn upwards. He also believes to have found a mentor in the form of the Chief of Medicine, Dr. Kelso. If it weren't for the attending, Dr. Cox and the janitor everything would be fine.
My Opinion
There's one German TV station (Pro 7) that could easily be called Scrubs TV. Whenever they cancel another program or don't know what else to send, they air another re-run of Scrubs. I watched a few episodes but couldn't really get into. But a friend of mine (the same one who suggested Friends) told me that I should start at the beginning and he was not wrong. I had a better connection to the characters when watching the first disc but I still don't know whether I will buy further seasons. Time will tell. But what I really like is that the authors didn't forget that it played in a hospital and that (not unlike M*A*S*H) they they also showed what it's about to be a doctor.
Doctor Who
(2005)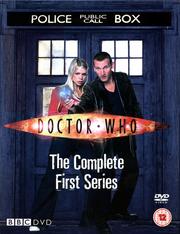 What's the show about?
The Doctor is an alien, the last of the Time Lords and he travels with his TARDIS (Time And Relative Dimensions In Space) to any point in time and to any planet he wants. The Doctor often travels with a Companion, most of the time a human woman. Wherever he goes, there's a mystery to be solved and sometimes the entire universe is at stake, in this dimension or another.
"Rose"
When Rose tries to close the shop she's working in she's attacked by the window dummies. At first she thinks it's a student prank until she gets rescued by a man who calls himself only The Doctor and the entire building explodes. This entire evening was so weird that she tells nobody what really happened until she gets attacked by a dummy arm again and is again rescued by him. A Nestene Consciousness tries to take over the world and only The Doctor can prevent it.
My Opinion
If one likes weird science-fiction stories (such as I) with way-out ideas thrown in for good measure then one should definitively give it a try. I've seen a few episodes of the old Doctor Who but not enough to make a valid comparison. But I really like the new series on its own, especially since they are not afraid to re-use old enemies without re-designing them. The Daleks look like from a 50s movie but that makes it so charming. Too bad that UK seasons are always so short.
Chuck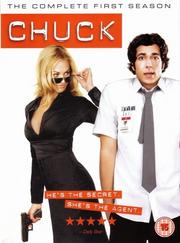 What's the show about?
Charles "Chuck" Bartowski is a man who works is an electronic market in the "Nerd Herd". But he's also a spy – sort of. He carries all of the government's secrets in his head without having direct access to them. But from time to time he "flashes" on something and then he and he and his handlers Sarah and Casey go on a mission to save the country. But Chuck's main goal is it to get the Intersect data out of his head again.
"Pilot"
After 9/11 NSA and CIA have put their information together into a computer system called Intersect. It stores the data encrypted in a huge amount of images. One day the rogue CIA spy Bryce Larkin destroys the Intersect and sends this data to his former friend Chuck Bartowski who opens it and unintentionally loads all this knowledge into his brain. Both CIA (in the form of Agent Sarah Walker) and NSA (in the form of Major John Casey) try to get the data back but the computer gets destroyed and the only remaining Intersect copy is in Chuck's head. Additionally an east-european assassin wants to kill a high-ranking NATO general.
My Opinion
Granted, the basic premise of the show is a bit ridiculous, but the show is still great. Chuck is the typical late 20s nerd who lives with his sister and her fiancé "Captain Awesome" and loves to play video games with his friend Morgan and now he has to be a spy. Sarah and Casey try to protect him but naturally Chuck gets into trouble all the time and it's great fun to watch these three and the rest of the Nerd Herd.