Deutsche Version | July | September
August, 12th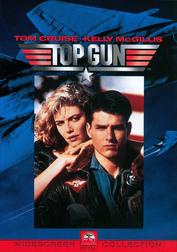 Tom Cruise    …    Maverick
Kelly McGillis   …    Charlie
Val Kilmer   …    Ice
Anthony Edwards   …    Goose
Tom Skerritt   …    Viper
Michael Ironside   …    Jester
Tim Robbins   …    Merlin
Clarence Gilyard Jr.   …    Sundown
James Tolkan   …    Stinger
Meg Ryan   …    Carole
Adrian Pasdar   …    Chipper
Synopsis: Lt. "Maverick" Mitchell – a slightly maniac F-14 pilot – and his RIO Lt. "Goose" Bradshaw have been accepted into the United States Navy Fighter Weapons School – more commonly known as "Top Gun". There they will learn the finer arts of aerial dogfighting. That is, if they don't get thrown out due to Maverick's behaviour. And the competition is hard, Top Gun accepts only the best pilots to begin with.
My Opinion: This movie has incredible flying scenes even after all these years. No crappy CGI but real planes flying in real air. And a great soundtrack, too. Ironically I haven't seen that movie that often but I seem to know it by heart due to the many parodies on many scenes of that movie.
And while I recognized Adrian Pasdar (Nathan Petrelli in Heroes) at once, it took me a while to recognize Goose as Dr. Greene from ER.
Too bad, that there aren't more good airplane combat movies out there.

August, 14th
Charlie Sheen    …    Lt. Topper Harley
Cary Elwes   …    Lt. Kent Gregory
Valeria Golino   …    Ramada Thompson
Lloyd Bridges   …    Adm. Thomas 'Tug' Benson
Kevin Dunn   …    Lt. Cmdr. James Block
Jon Cryer   …    Jim 'Wash Out' Pfaffenbach
William O'Leary   …    Pete 'Dead Meat' Thompson
Kristy Swanson   …    Kowalski
Efrem Zimbalist Jr.   …    Wilson
Synopsis: In this parody of Top Gun (amongst many others) Topper Harley is a Navy fighter pilot who has mental issues – especially when someone compares him to his father. He and his wing serves on the carrier S.S. Essess and it's their task to destroy a nuclear plant of Saddam Hussein's. But there are also saboteurs who want to prove the ineffectiveness of the current Navy planes in order to sell them new ones.
My Opinion: While I still enjoyed this movie very much, I had very few laugh-out-loud moments. There were more sentimental smiles every time I recognized the movie that was spoofed in this scene. But what I found very amusing was to see "Alan Harper" (Two and a Half Men) as 'Wash Out'. I hadn't seen this movie since before I started to watch TaaHM. This was also the first time I watched this movie in English and have to say that there were some good puns in the German dubbing that weren't in the original and I was a bit disappointed. I was like "I wonder what the original version of 'Mach 1, Mach 2, Mach 3, Mach Feierabend!' or 'Heb nicht ab vom Acker ohne deinen Tacker!' will be." and then there was … nothing.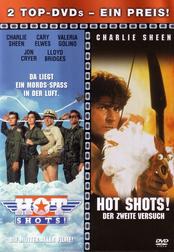 Charlie Sheen    …    Topper Harley
Lloyd Bridges   …    President Thomas 'Tug' Benson
Valeria Golino   …    Ramada Rodham Hayman
Richard Crenna   …    Col. Denton Walters
Brenda Bakke   …    Michelle Rodham Huddleston
Miguel Ferrer   …    Commander Arvid Harbinger
Rowan Atkinson   …    Dexter Hayman
Synopsis: Topper – who lives in a buddhist monastery now – is contacted by the CIA. They want him to rescue a rescue team that tried to rescue a rescue team that tried to rescue some hostages from Iraq. In order to accomplish this they meet with their contact deep in enemy territory – and the contact (codename "Bench Press") happens to be Ramada.
My Opinion: This time they spoofed the Rambo and other commando team movies and I enjoyed this more than the previous one. Especially in the beginning with the monastery and the Kickboxer fight. Or the scene on the jungle river (In Iraq?!? 😉 ) where Charlie Sheen meets his father (one starred in Platoon, the other in Apocalypse Now) and they congratulate each other for Wall Street. Or the scene with the body count – "Bloodiest movie of all time". So great.
August, 16th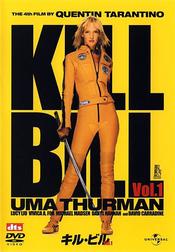 Uma Thurman    …    The Bride
Lucy Liu   …    O-Ren Ishii
Vivica A. Fox   …    Vernita Green
Daryl Hannah   …    Elle Driver
David Carradine   …    Bill
Michael Madsen   …    Budd
Julie Dreyfus   …    Sofie Fatale
Chiaki Kuriyama   …    Gogo Yubari
Sonny Chiba   …    Hattori Hanzo
Chia Hui Liu   …    Johnny Mo
Synopsis: Four years ago the head of the Deadly Viper Assassination Squad decided to kill on of its former members: *beep* a.k.a. Black Mamba. They killed 9 members of the wedding party including Mamba's unborn daughter. They should have killed 10. Mamba has survived and now she wants revenge. Her first targets are O-Ren Ishii a.k.a. Cottonmouth and Vernita Green a.k.a. Copperhead.
My Opinion: "If on your journey you should encounter God, God will be cut." I love the mixture of English and Japanese in this movie (Japanese/Japan is a very fascinating language/country for me) and the Katana is one of if not the most elegant blade weapon(s) and I love fighting scenes with them. But the scene that sends shivers down my spine is when Hanzo shows Mamba his collection. The respect and reverence she showed towards these instruments of death and the music that is played makes me want to be there in that very moment. From the moment she enters Hanzo's sushi restaurant until he gives her her own Katana is the highlight of the movie for me, not the big end fight. But of course I enjoy that, too.
August, 31st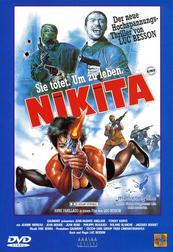 Anne Parillaud    …    Nikita
Tchéky Karyo    …    Bob
Jeanne Moreau    …    Amande
Jean-Hugues Anglade    …    Marco
Jean Reno    …    Victor nettoyeur
Synopsis: When a couple of junkies break into a pharmacy they are cornered by the police and most of them get killed. But Nikita survives and kills a cop. She's sentenced to 10 + 30 years. But then a government agency takes an interest in her, trains her and makes her an assassin. From now on she lives a public life as nurse and a secret life as killer.
My Opinion: The only thing I found interesting was that the training took actually several years (and were depicted as such) and that several jobs took months to plan – in modern day movies such an operation is often just a matter of days to plan and execute. But I had hoped that this Luc Besson movie would be somewhat the template for the character of Sydney Bristow in Alias. But it was not. This movie was so slow-paced it was nearly standing still. OK, there was another thing I found interesting: Jean Reno in the role of a cleaner, I assume that's where Besson got the idea for his later (and way better) movie Léon.