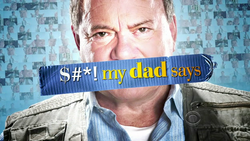 $#*! My Dad Says @ Wikipedia
$#*! My Dad Says @ IMDb
Henry hat seinen Job verloren, als sein Magazin eingestellt wurde und nun ist er pleite. Er hat keine andere Wahl, als sich an seinen Vater zu wenden. Und Ed ist ganz sicher nicht die einfachste Person, die man um sich herum haben kann, denn er sagt immer das falscheste zur genau richtigen Zeit.
The Shat ist großartig in der Rolle. Man hat das Gefühl, dass er mal wieder nur sich selbst spielt, aber das ist OK, denn The Shat hat genau die richtige Dosis Selbstironie, um damit durchzukommen. "Guts or nuts – your choice!".