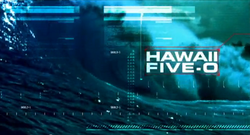 Hawaii Five-0 @ Wikipedia
Hawaii Five-0 @ IMDb
Steve McGarrett ist ein Navy Seal, der sein Offizierspatent zurückgibt, um als Polizist auf seiner Heimatinsel Hawaii zu arbeiten. Aber nicht nur als irgendein Cop und nicht nur aus irgendwelchen Gründen. Sein Vater wurde von dem Mann umgebracht, den er seit Jahren jagt und er traut der HPD nicht zu, den Fall zu lösen. Sein Team arbeitet unter der direkten Autorität der Gouverneurin und hat wesentlich mehr Freiräume, ihre Fälle zu lösen. Und er wird von einem nicht so normalen Team unterstützt.
Die Castliste liest sich viel versprechend: Scott Caan (Ocean's Eleven, The Fast and the Furious), Daniel Dae Kim (LOST), Grace Park (Battlestar Galactica), Masi Oka (Heroes) und natürlich James Marsters (Buffy the Vampire Slayer, Smallville).
Das Problem für mich ist, dass es eine ganz gerade Cop-Serie wie CSI oder NCIS ist. Es gibt kein spezielles Element darin. Ich bin mir sicher, dass es eine gute Serie ist, die eine Menge Leute gucken werden, es ist nur nicht meine Art von Serie.
Es hilft natürlich auch überhaupt nicht, dass ich einseitig voreingenommen in Richtung des Bad Guys (Marsters) bin.