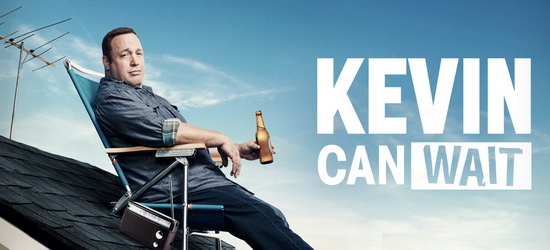 Kevin Can Wait Website
Kevin Can Wait @ Wikipedia
Kevin Can Wait @ IMDb
Kevin Gable is a newly retired NYPD cop who has a typical American family and cop friends who are also retired. He plans to spend his days build a go-kart / paintball track and other fun activities. For further information, see here:
Unfortunately it does not turn out as planned. His teenage daughter (Taylor Spreitler, Melissa & Joey) announces to be engaged and wants to drop out of college to support her computer programmer nerd fiancé Chale (Ryan Cartwright, Bones' Vincent Nigel-Murray). You can tell her parents are not pleased.
To subsidize his retirement Keven had planned to rent out the garage apartment but that plan falls flat when he offers his daughter the place instead. And his buddies also have obstacles that wholly destroy his PowerPoint retirement plan.
I loved Kevin James in The King of Queens. And sometimes TV series need to find their footing a few episodes in. But this pilot episode just felt plain. Mediocre. Mundane.
Chale was a heap of clichés of a nerd and not very entertaining. Kevin was the nice loveable guy he usually plays but without a foil like Arthur Spooner he had no one to play off of.
And the laugh track was once again trying to tell me something was hilarious even when it was only slightly amusing – if even that.
So far this show doesn't work for me and with so much stuff to watch, it'll have to do A LOT better in the next few weeks to be still on my calendar by Halloween.