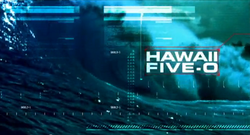 Hawaii Five-0 @ Wikipedia
Hawaii Five-0 @ IMDb
Steve McGarrett is a Navy Seal who resigns his offto work as a cop on his home island Hawaii. But just not as any cop and not just for some reason. His father was killed by the man he has been hunting for years and the HPD can't be trusted to solve this case. His team works under direct authority from the governor and gets way more leeway to solve their cases. He's supported by a not so ordinary team.
The cast reads intriguing: Scott Caan (Ocean's Eleven, The Fast and the Furious), Daniel Dae Kim (LOST), Grace Park (Battlestar Galactica), Masi Oka (Heroes) and of course James Marsters (Buffy the Vampire Slayer, Smallville).
The problem for me is that it is a straight-forward cop show like CSI or NCIS. There's no special element in it. I'm sure it's a good show that many people will enjoy but it's just not my kind of show.
It doesn't help at all that I'm partial towards the supposed baddie (Marsters).