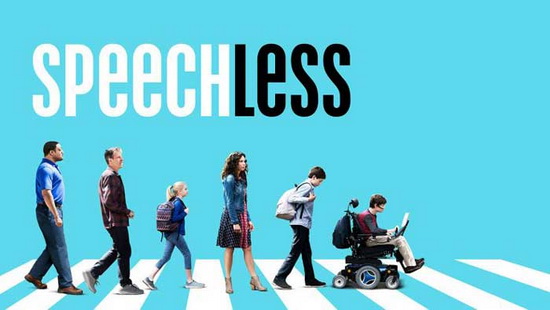 Speechless Website
Speechless @ Wikipedia
Speechless @ IMDb
The Dimeo family has once again moved to give their eldest son J.J. a chance at a new school. J.J. has cerebral palsy*, an illness that binds him to a wheelchair and makes him unable to speak (but not to express himself).
J.J.'s mom Maya is the driving factor behind this move because her entire life now revolves around J.J., to give him the best care and education possible.
But her other two kids are slowly getting fed up with getting uprooted all the time for some perceived (though sometimes not even actual) improvement of J.J.'s life.
J.J.'s new school is very tolerant and open-minded but no one can meet Maya's standards and expectations which becomes obvious when the new school can only offer the garbage ramp for J.J. instead of a proper wheelchair access at the front door.
J.J.'s dad is a laid-back guy who doesn't really care what others think about him and he manages to counter-balance his wife and not lose focus on the fact that there are two more children to be raised.
I've already seen a few more episodes and this show manages to have an interesting balancing act.
On the one hand they actually show the problems people with disabilities have to face and oftentimes the mom comes out as a textbook Social Justice Warrior who fights the fight just for the sake of fighting the fight.
But they do it so over the top (for example, the entire school wants to make J.J. class president just because he's disabled and not based on any merits) and interlaced with good humour that they manage to get their point across without appearing preachy.
It absolutely helps that J.J. himself is a very balanced kid who overcomes his disabilities with the tools he has at hand.
While Minnie Driver's (Maya) character reminds me of her role in About a Boy (the series), John Ross Bowie's dad on the other hand is nothing like The Big Bang Theory's Sheldon's foil Barry Kripke.
*Both the actor as well the character have cerebral palsy, an illness that also afflicts Breaking Bad's actor RJ Mitte.