Deutsche Version | CW 08-11 | CW 13
Gossip Girl 3×15 The Sixteen Year Old Virgin
Ah, curse your sudden but inevitable betrayal! Sometimes things are very predictable. OK, I did not see Chuck's mom in league with Jack but since she is an adult, she wasn't to be trusted in the first place…
But at least I'm into this show again and can enjoy all their plotting and scheming again.
Chuck 3×11 Chuck Versus the Final Exam
Chuck has lost something. If I had to put a finger on it, I'd say it lost its fun. Why does Chuck have to kill someone to become a real spy? He isn't a Double-O agent (Was the bathroom scene a reference to the one in True Lies or Casino Royale?) and I can't imagine that a kill test is part of the initiation ritual even in a TV show CIA. And if he fails they fire him? What about the Intersect in his head? Since when isn't that a problem anymore? In the first season they wanted to throw him in a dark place in Nowheresville if they couldn't protect him where he lived.
And what about Rome? Chuck living alone in Rome? Away from his friends, his family AND Sarah? What's the point of being in Rome then?
Why does he need to be a "real spy" anyway? In a real-world scenario Chuck would be a great analyst; someone who stays in the Van and is the eyes and ears of Sarah and Casey in the field. He sees what they see and when he sees something important he flashes, informs them and they take out the bad guys.
I want the show be lighter again, more of the humour that made it so fun during the first two years. You can't take it seriously anyway since there are enough plot holes in it to build a second Grand Canyon – I choose to ignore them as long as I enjoy watching the characters. But when they fail to shield me then the holes become even more visible.
Castle 2×17 Tick, Tick, Tick…
Whoa. What an end. Great episode. Even though I knew that the bad guy wasn't dead the moment he moved away from the window I enjoyed this episode and Castle's childlike excitement about all these new toys very much. Now I wonder how Beckett saved herself – I'd've jumped into the bathtub, it worked in Lethal Weapon 2. 😉
Life Unexpected 1×10 Family Therapized
If at first you don't succeed, … This was definitively an interesting "re-start" of the show. Now the big question is what the characters will do differently now. But it was a good idea to let Lux burst a bit, the "Why did you leave me?" question had to come up at some point.
I'll have to admit that I had my doubts but I enjoy this show more and more (with Lux and Baze being far in the lead in regards to character liking).
LOST 6×09 Ab Aeterno
When I read the year I was a tiny bit disappointed: 1867. I always imagined that the Black Rock was from the 17th or even 16th century. But he's barely 160 years old!
And does this mean that the island was once in the Atlantic? We know the island can be moved but it was never established how far. But if the Black Rock sailed from Tenerife and wanted to get to America it hardly ended up somewhere in the Pacific (where it would have to be to "allow" a plane crashing on it that flew from Australia to L.A.).
This episode gave me not so much answers but more confirmations of theories. And that's what worries me now. What if there's no surprise anymore? There are so many theories about the island out there someone was bound to have the right idea. What if I already read the solution without knowing it?
I hope there are still one or two surprises on the road now that we've reached the halftime of this final season.
The Big Bang Theory 3×18 The Pants Alternative
So great. "Sheldonopulous." "It's only one colour!" "For you – no charge." "Dark side of the moon." They should make Sheldon an alcoholic. 😉
How I Met Your Mother 5×18 Say Cheese
This episode had the disadvantage of me watching it right after TBBT and them having a fight. But I still enjoyed how Robin tried to make a bad photo of Barney.
Two and a Half Men 7×18 Ixnay on the Oggie Day
Tricia Helfer or Jennifer Taylor? I know I couldn't decide between them. 😉
But I have decided that I don't need Charlie and Chelsea together as long as she drops in regularly.
Cougar Town 1×18 Turn This Car Around
Cool inverse intervention. Great (literally) dog. I'd love to see more Travis (the son, not the dog – OK the dog, too); when he's older he could become a Colonel and travel through Stargates – he has the sense of humour to pull it off.
Human Target 1×09 Corner Man
This show has an unsteady quality. One week you can totally enjoy the (ridiculous) story and another it just purls slowly down to the valley. They tried to bring an emotional depth to the characters I am simply not interested in. Who cares what Chris's backstory is as long as he kicks ass?
The Vampire Diaries 1×15 A Few Good Men
"I binged it." – It's funny how they try to product-place Microsoft's search engine. 😉
I like all these twists the story is having but maybe it would have been better if they had given the show a different name. "Diary" always sounds girly to me but despite the inevitable romance there's more to this show than what the name makes it sound like. But then again, who names a show Buffy the Vampire Slayer?!
Supernatural 5×15 Dead Men Don't Wear Plaid
"Awesome. Another Horseman. Must be Thursday." Cool reference within a reference. 😉 (Thursday is of course the day Supernatural airs but it's also a wink to the following line: "Dawn's in trouble. Must be Tuesday." (Buffy's musical episode Once More With Feeling).
Nice to see Bobby again and he even looked decent. 😉 The episode was OK, but nothing special. I just hope that it was the cue for Bobby having a bigger role again.
Funny side note: On LOST this man (Titus Welliver) was Smokey before he looked like Locke. On Supernatural he's one of the Four Horsemen, namely War:
This is LOST's Jacob (Mark Pellegrino), but on Supernatural he's Lucifer himself: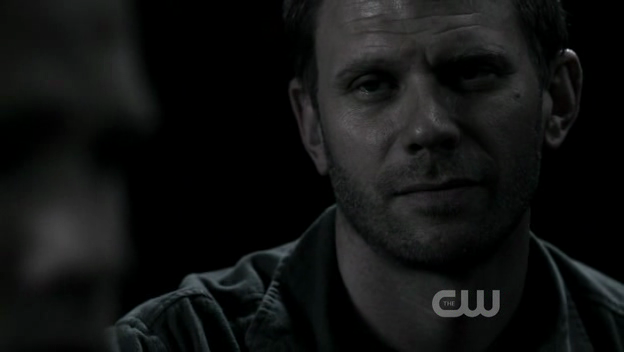 Coincidence?
Justified 1×01 / 1×02 Fire in the Hole / Riverbrook
It looked fairly interesting. Timothy Olyphant certainly can wear that kind of hat. I have to watch a few more episodes to make up my mind but I'm not disinclined to continue watching.
FlashForward 1×13 Blowback
What happened this week? Ah, yes. Sadbeard's daughter was kidnapped. And something with self-recognition in a mirror. I believe that was it.
Spartacus: Blood and Sand 1×10 Party Favors
They all must have an inherent death wish.  Last week it was Batiatus, this week Ilithyia. Must be a masochistic trait to cross a man who does brutal killing for a living.
But I am also sad that Blondie is gone, he was fun to have around.