It wasn't planned as such, but in the last few weeks I have watched quite a number of Science-Fiction movies and a good part of them were "Doomsday" movies, so I might as well write a few words about them. Most of these movies are very, very US-patriotic but when you can accept that and when you can ignore the scientific "inaccuracies" you can have a lot of fun with them.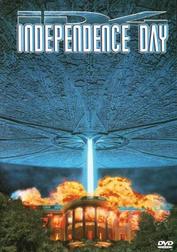 Will Smith   …    Captain Steven Hiller
Bill Pullman   …    President Thomas J. Whitmore
Jeff Goldblum   …    David Levinson
Mary McDonnell   …    First Lady Marilyn Whitmore
Judd Hirsch   …    Julius Levinson
Robert Loggia   …    General William Grey
Randy Quaid   …    Russell Casse
Margaret Colin   …    Constance Spano
Vivica A. Fox   …    Jasmine Dubrow
Adam Baldwin   …    Major Mitchell
Brent Spiner   …    Dr. Brackish Okun
Synopsis: July, 2nd. Some aliens come in a huge ship. They place their UFOs all over the world and blow everything apart. July, 3rd. We try to strike back and fail miserably. July, 4th. We give them a cold and blow them apart.
My Opinion: Great movie. Love it. It's so cheesy that falls out of the bottom of the scale and comes back from the top of it. The characters are so overdrawn that you can't take them seriously and that saves the movie. Imagine you would have to look at this movie with a serious eye. The president that fights in the final battle, the drunken pilot that saves the day, the scientist that writes a computer virus for an alien computer and Will Smith in the middle of it.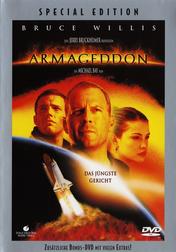 Bruce Willis   …    Harry S. Stamper
Billy Bob Thornton   …    Dan Truman, NASA Administrator
Ben Affleck   …    A.J. Frost
Liv Tyler   …    Grace Stamper
Will Patton   …    Charles 'Chick' Chapple
Steve Buscemi   …    Rockhound
William Fichtner   …    Colonel William Sharp, Shuttle Freedom Pilot
Owen Wilson   …    Oscar Choi, Geologist
Michael Clarke Duncan   …    Jayotis 'Bear' Kurleenbear
Peter Stormare   …    Lev Andropov, Russian Cosmonaut
Ken Hudson Campbell   …    Max Lennert
Jessica Steen   …    Jennifer Watts, Shuttle Freedom Co-Pilot
Keith David   …    Lt. General Kimsey
Jason Isaacs   …    Dr. Ronald Quincy, Research
Synopsis: A meteor the size of Texas in on its way to Earth and it's hitting us in 18 days. It will be a 'Global Killer', the end of mankind. And there's only one way to save us: Send a oil drilling team up there and blow it up from the inside with a nuke. But oil drillers are a tough crowd and not trained astronauts. Will this ever going to work?
My Opinion: This is another movie I enjoy a lot. It has a great soundtrack and a great look, I especially like the non-destructive effects, like the take-off of the shuttles and the look of the meteor. I also like the characters, they are so comic-like: Rockhound, Bear, Lev. This is also a movie one can't take seriously or one can't appreciate it. And although he was portrayed in a very chlichéd way, I liked it that Russia was allowed to help saving the world – whereas ID4 was basically an all-american gig.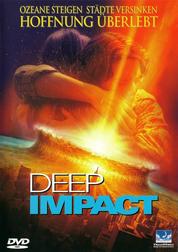 Robert Duvall    …    Capt. Spurgeon 'Fish' Tanner
Téa Leoni   …    Jenny Lerner
Elijah Wood   …    Leo Beiderman
Morgan Freeman   …    President Tom Beck
Maximilian Schell   …    Jason Lerner
James Cromwell   …    Alan Rittenhouse
Laura Innes   …    Beth Stanley
Leelee Sobieski   …    Sarah Hotchner
Synopsis: A meteor the size of ? in on its way to Earth and it's hitting us in 18 days months. A spacecraft built by the Americans and Russians departs to intercept it, dig a hole and blow it up with a nuke. But it fails and now two huge pieces are still on their way to Earth and they will devastate most of Earth's surface and kill billions of people.
My Opinion: Ironically this movie has – when using ten words or less – the same story as Armageddon and it came out in the very same year (1998) and yet it's totally different. They have more time to intercept the meteor, they are sending real astronauts, it's more serious about the whole topic and it shows more of the life on Earth during that time. But I have to confess, I like Armageddon more. I think this is a good movie, but due to its seriousness one has to be in the mood watch it.
Sylvester Stallone    …    John Spartan
Wesley Snipes   …    Simon Phoenix
Sandra Bullock   …    Lt. Lenina Huxley
Nigel Hawthorne   …    Dr. Raymond Cocteau
Benjamin Bratt   …    Alfredo Garcia
Bob Gunton   …    Chief George Earle
Glenn Shadix   …    Associate Bob
Denis Leary   …    Edgar Friendly
Synopsis: Los Angeles, 1996. Detective Spartan arrests the maniac Simon Phoenix but several hostages are killed in the process. Both Phoenix and Spartan are convicted and brought to the new cryo prison. San Angeles, 2032. Simon Phoenix manages to escape during a probation hearing and causes havoc in a now peaceful world. Only an old-school cop like Spartan can stop an old-school criminal like Phoenix. But Spartan has a hard time to fit into a world where swearing is forbidden and Pizza Hut has won the franchise wars.
My Opinion: Yet another movie that takes itself too seriously. The action scenes between Sly and Wesley were quite enjoyable and the scenes between Sly and Sandra were really funny. I loved all those 80s references like Lethal Weapon, Love Boat and of course the side blow to Arnie and the "Schwarzenegger Library". The question this movie asks is whether we really would like to live in a over-nurturing, perfect and boring world like this or whether would belong to Friendly's rebels.
Sylvester Stallone    …    Kit Latura
Amy Brenneman   …    Madelyne Thompson
Viggo Mortensen   …    Roy Nord
Dan Hedaya   …    Frank Kraft
Jay O. Sanders   …    Steven Crighton
Karen Young   …    Sarah Crighton
Claire Bloom   …    Eleanor Trilling
Vanessa Bell Calloway   …    Grace Calloway
Renoly Santiago   …    Mikey
Colin Fox   …    Roger Trilling
Danielle Harris   …    Ashley Crighton
Trina McGee   …    LaTonya
Marcello Thedford   …    Kadeem
Sage Stallone   …    Vincent
Synopsis: Chemical waste is brought illiegally through the New York-New Jersey tunnel. Thieves who have just robbed a jewelry store try to escape and ram these trucks. This causes an explosion and both sides of the tunnel collapse. Kit Latura, limo driver and fired chief of Emergency Medical Services goes in and tries to rescue possible survivors. But there are a lot of obstacles: The fires are still burning, the tunnel is getting flooded and the walls are caving in.
My Opinion: Technically this is not a Science-Fiction movie, but I was in the mood for another Sly movie and a lot of stuff gets blown up here. 😉 It's a standard action no-brainer with all kind of action scenes, but also a lot of personal drama, like the decision when you actively have to leave someone behind and you'll know he is going to die alone but there's nothing you can do.
As you can see I watch a whole lot of movies that have plotholes the size of the moon and yet there are some story elements that bug me – even in such movies. In this one it was the mayor's(?) decision to re-open both ends of the tunnel now. Why? Because the tunnel is an traffic artery and she needs to send cars through it again. — In reality such a tunnel would be closed for months for inspections and repairs even if it wouldn't collapse the minute they open the ends.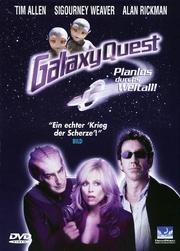 Tim Allen    …    Jason Nesmith
Sigourney Weaver   …    Gwen DeMarco
Alan Rickman   …    Alexander Dane
Tony Shalhoub   …    Fred Kwan
Sam Rockwell   …    Guy Fleegman
Daryl Mitchell   …    Tommy Webber
Enrico Colantoni   …    Mathesar
Robin Sachs   …    Sarris
Synopsis: Jason Nesmith is a former TV star who played the role of "Commander Taggart" in a show called "Galaxy Quest". Now he attends conventions, gives autographs and opens electronic stores. His co-stars aren't doing much better. But then some real aliens come to Jason in the believe that all the stories about the "N.S.E.A. Protector" and its crew are also real. And they need him and his crew to save their race.
My Opinion: I've been a Star Trek for a long time but I've never been that fanatic that I can't enjoy a good parody or homage like this one or the german "USS Highlander" movies. I especially liked the well chosen cast with Tim Allen as Shatner copy (when the stone alien ripped his shirt off, he even walked like Shatner in TOS 😉 ), Rickman who is this Shakespeare actor and basically hates his GQ role by now, the tough Alien woman Weaver who is now doomed to repeat the computer and Rockwell as prototypical Redshirt. And of course the geeky fans who dissect every episode for canonical errors. 😀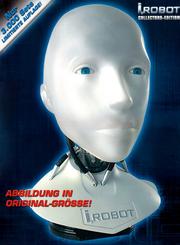 Will Smith    …    Del Spooner
Bridget Moynahan   …    Susan Calvin
Alan Tudyk   …    Sonny
James Cromwell   …    Dr. Alfred Lanning
Bruce Greenwood   …    Lawrence Robertson
Adrian Ricard   …    Granny
Chi McBride   …    Lt. John Bergin
Shia LaBeouf    …    Farber
Synopsis: U.S. Robotics is producing and selling robots that work under the Three Laws of Robotics. The current series NS-4 is soon to be replaced by the NS-5 series which have an constant uplink to the central computer and can receive updates this way. But for personal reasons Detective Spooner doesn't trust robots and when one day on of the major scientiets of the robot project is killed, Spooner suspects that it was a robot who did it. But he is the only one who thinks so – until it is too late.
My Opinion: I've never read any of Asimov's stories, which is a shame actually. But I knew the basic story and thought that they made a good movie out of it. Sometimes the action was a bit over the top, especially in the Spooner-vs-masses-of-robots scenes but on the other hand, if they would have used less it wouldn't have felt right either, as they hadn't enough money or computer power to render more. And they managed to let me feel empathy for the non-human character whose face was rendered based on Alan Tudyk (A Knight's Tale, Firefly), who also spoke Sonny.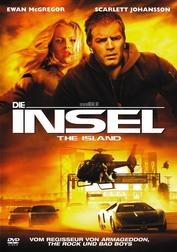 Ewan McGregor    …    Lincoln Six Echo / Tom Lincoln
Scarlett Johansson   …    Jordan Two Delta / Sarah Jordan
Djimon Hounsou   …    Albert Laurent
Sean Bean   …    Dr. Merrick
Steve Buscemi   …    James McCord
Michael Clarke Duncan   …    Starkweather Two Delta
Ethan Phillips   …    Jones Three Echo
Brian Stepanek   …    Gandu Three Echo
Synopsis: Lincoln 6 Echo and Jordan 2 Delta are two of few survivors of an environmental disaster. Now they live in an isolated facility with a few thousand other survivors and their only hope is that they win in the lottery and can leave for The Island, the last place on Earth where people can live directly under the sky. But Lincoln starts to ask questions because he has weird dreams he can't explain and when he finds out the terrible truth, everything changes.
My Opinion: Some people compared this movie to Logan's Run but I can see only a few minor parallels, IMHO not enough to really compare these movies. The movie basically flows by from one chase scene to the next. There's not that much plot in it, but it's enjoyable to watch.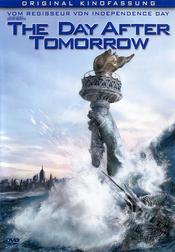 Dennis Quaid   …    Jack Hall
Jake Gyllenhaal   …    Sam Hall
Emmy Rossum   …    Laura Chapman
Dash Mihok   …    Jason Evans
Jay O. Sanders   …    Frank Harris
Sela Ward   …    Dr. Lucy Hall
Austin Nichols   …    J.D.
Arjay Smith   …    Brian Parks
Tamlyn Tomita   …    Janet Tokada
Sasha Roiz   …    Parker
Ian Holm   …    Terry Rapson
Synopsis: When a huge ice shell the size of Rhode Island breaks off the arcic shelf, Dr. Hall warns the scientific community that a climatic shift is coming. And it actually is but it comes even faster than Dr. Hall had expected it. But nobody believes Hall until it's too late for many people. The north-atlantic current is breaking down and the temperatures in the northern hemisphere are quickly dropping below zero and people start to die by the thousands. And Hall's son is stuck in New York, fighting for survival.
My Opinion: Luckily they haven't translated the title or it would simply be called "Übermorgen" in german. 😉 What I liked about this movie is that the catastrophe actually happened. That they didn't invent some astronomical blow-dryer to reheat the Earth. That they actually put the irony in it that the survivors of the so-called first-world countries had to seek refuge in the less developed countries. The one thing I didn't like was that the Vice President survived, he caused so many death due to his ignorance and yet he gets the promotion.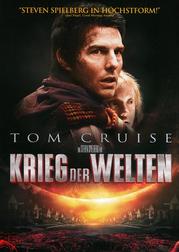 Tom Cruise    …    Ray Ferrier
Dakota Fanning   …    Rachel Ferrier
Miranda Otto   …    Mary Ann
Justin Chatwin   …    Robbie
Tim Robbins   …    Harlan Ogilvy
David Alan Basche   …    Tim
Synopsis: There are some weird storms and some lightning hits the ground. Shortly after machines come out of the ground, machines that have been there since before the first houses were built there. And these machines, these tripods, destroy everything in their path and kill any human being. Ray, who has both his childs over for the weekend, does anything that's necessary to protect his family and the first thing on that list is: running like hell.
My Opinion: The story War of the Worlds is well known – especially how it ends. And I liked it that they didn't make a hero movie out of it. I think it was a great idea that Ray was neither hero nor anti-hero but just a regular guy who doesn't know what to do just like the rest of mankind. Dakota's character was a bit too annoying for my taste.
This was the first time I watched the DVD after I had seen the movie in the theatre and I enjoyed it again. But what someone else said is also true: If the Ferriers would have had a dog, the dog would have made it to Boston, too.  😉
So that's it. I did watch WotW yesterday evening and as you can see in my signature strip I totally changed genre this morning.