A few years ago, DC Comics rebooted its entire comics universe with a The Flash event called Flashpoint.
I have it both as book and animated movie:
After that 52 comic book lines were completely rebooted, thus it was dubbed "The New 52".
And I decided to get into it because it looked to be a good starting point. So I subscribed to:
I dropped a few after a few months and all of them by the end of the second year.
Some stories just didn't captivate me. And the Superman stories just weren't like I was used to. For me, Superman stories will always be more grounded, since I grew up with the movies and the TV shows (Superboy, Lois & Clark, Smallville) where budget and limited special effects abilities would always limit what kind of stories could be told.
So I never had to deal with underground lizard people and whatever else the comic universe came up for Metropolis.
Another cornerstone for "my" Superman is also a strong Lois. OK, sometimes she has to be the damsel in distress but I still expect her to be a kick-ass reporter who takes a stand for what she believes in. I really liked Teri Hatcher (L&C), Erica Durance (Smallville) and Dana Delany (Superman: The Animated Series).
But then The New 52 pushed Lois pretty much aside which was a no-no for me.
Also it seemed to me that many stories were told somewhat erratically and made scene jumps the reader was supposed to follow. It just wasn't my cup of tea.
So I became a non-reader again.
After Smallville had ended, I read the "season 11" comics written by Bryan Q. Miller who had also written for the show: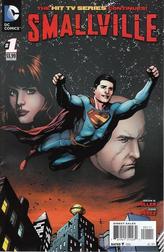 Then a few months ago I stumbled across a short series called Lois & Clark (unrelated to the TV show). I haven't fully figured out the in-universe mechanics behind it, but the basic story is that a version of Lois & Clark are living undercover as Mr. & Mrs. White in an alternate universe where there already is a Superman/Clark Kent and they have a son named Jon. Lois is writing a book exposing Intergang and that's one of their perils.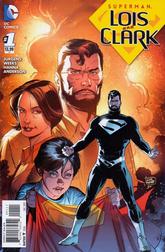 It only has eight issues but it is a good read and apparantly it directly leads back into the main universe with Rebirth.
DC has sort-of rebooted their universe back again. This time not fully but they are making changes to things that didn't work out or became uninteresting.
They call it Rebirth and it resets almost all issue numbers back to #1, with an introduction book called DC Universe Rebirth #1 and many series getting a <Title> Rebirth #1 issue before the actual <Title> #1 issue.
Their two oldest series, Action Comics, which introduced Superman in 1938 and Detective Comics (Detective Comics = DC, in case you din't know), which introduced Batman in 1939 go back to their original numbering, leaving out the number of issues that were printed under The New 52 label, thus starting Action Comics with issue #957 and Detective Comics with #934.
And I thought I give it a shot again (at least on a trial basis):
I've also added The Flash Rebirth to my reading line (though I haven't gotten it yet).
And last but not least I also bought this anniversary book:
On a side note: I've also read a "young adult" novel by Gwenda Bond called Lois Lane: Fallout about Lois' early forays into the world of journalism. She also has this online friend called SmallvilleGuy who plays a minor offscreen role in the book.
It was a good read and I'm waiting for the second book (Lois Lane: Double Down).